DISTRIBUTION
A With over 150 partners operating throughout Brazil, there is always a Usiminas distributor near you. Usiminas' distribution includes resellers and processors who use flat steel, to develop pipes, profiles, tiles, gutters, slitters, blanks, plates, among others.

SOLUÇÕES USIMINAS
Leader in the segment of distribution and steel processing
"Usiminas Soluções" (Usiminas Solutions), created in 2010, has a modern processing infrastructure and is prepared to meet the demands of several market segments in any quantity and format.
Learn more about the products we offer for the sector: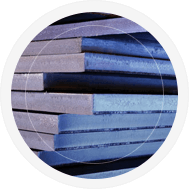 Heavy Plate
Quality steel, with different levels of mechanical resistance for increasingly demanding requirements
---