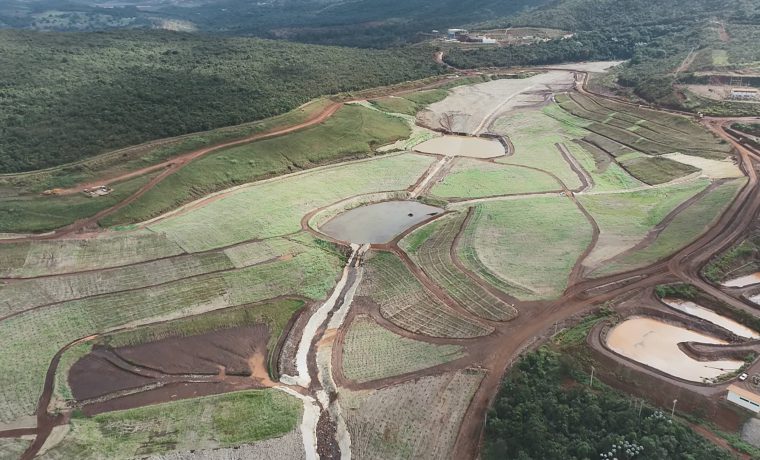 Mineração Usiminas receives certificate of de-characterization of the Central Dam
Feam declares extinct the last tailings disposal structure built upstream in the company
The State Environmental Foundation (Feam) made official the de-characterization of the last tailings disposal structure built upstream at Mineração Usiminas: the Central Dam. The certificate was issued this Tuesday, May 17, after an inspection by representatives of the environmental agency, carried out last Monday, 16.
Feam's visit was the last step for the Central Dam to be declared extinct. Also in March, the National Mining Agency (ANM) removed the structure from its register after inspecting the area where it was located and getting to know the works carried out by the company in order to de-characterize it. Previously, in 2021, the company de-characterized the Somisa Dam, which was also built using the upstream method.
The process to de-characterize the Central Dam began in 2014, when Mineração Usiminas began mining the materials deposited in the structure, with reuse after processing at the Ore Treatment Facility (ITM) Flotation. Between 2021 and 2022, the decommissioning/decharacterization and revegetation of the site were carried out.
"This is an important moment for us, as we continually work to make operations increasingly safer and more sustainable. We are very proud of the result of this work, made possible by the commitment and dedication of our teams", says the CEO of Mineração Usiminas, Carlos Rezzonico.
Commitment to safety and sustainability
With the conclusion of the de-characterization of the dams, Mineração Usiminas fulfills one more of its ESG (Environmental, Social and Governance) goals. Another commitment signed, the cessation of the use of conventional structures for the disposal of tailings, was fulfilled with the inauguration of the filtration plant, the Dry Stacking, and the deactivation of the Samambaia Dam, in December 2021.
"The works were carried out in an innovative way, within the strictest technical standards. Revegetation will allow the area to return to its original form, that is, it will be reintegrated into nature as it was before", emphasizes Carlos Rezzonico. At the site, 12 thousand seedlings of native species have already been planted and work continues with monitoring their growth.
Want to know more? Discover Usiminas' Filtered Tailings Disposal System.