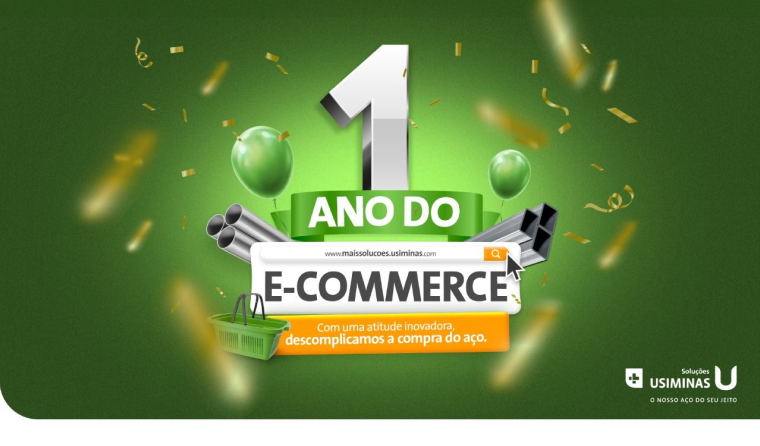 Soluções Usiminas celebrates 1 year of e-commerce
Innovation and pioneering spirit mark the celebrations of the first year of operation of the e-commerce of Soluções Usiminas (SU), a company in the steel transformation and distribution segment of Usiminas. The company created the e-commerce "Mais Soluções Usiminas" to democratize steel consumption in the country and offer products and services that cater to all types of audiences, including small consumers of this material.
Data from Soluções Usiminas show that the steel sales platform has grown significantly: currently, more than 4,500 customers are served during this period of operation on the online sales platform.
"The idea of ​​Mais Soluções Usiminas arose from the need to bring our steel to all audiences. Until then, Soluções Usiminas did not reach the public with lower consumption and was focused on the industrial market, on medium and large companies. The service via Usiminas, which has been operating in Brazil for 60 years, focuses on companies with high consumption of steel, given the need to program equipment at the plants. The idea is to facilitate the sale of this material and give access to high quality products to the general public. Usiminas has the domestic market as a priority and now the steel produced by the company is available for all types of public", explains the executive director of Soluções Usiminas, Ascanio Merrighi.
He also highlights that the platform is accessible and easy to navigate and allows for the purchase of various ready-cut and ready-made steel products in any quantity. With this, Ascanio says that it is possible for individuals and companies of any size to be able to purchase steel directly from the company, in an agile and safe way.
The online sales service already serves the markets of Minas Gerais and São Paulo and should be expanded to other states in the coming years.
DIGITAL PANEL
In celebration of SU's first year of operation, a digital panel will be held to talk about the virtual market: "From Off to On, more Transformation and Profitability for your business." The event will take place today (Wednesday), at 7 pm, and will be broadcast live on Youtube from Usiminas and Instagram from the e-commerce Mais Soluções Usiminas.
The panel will have the participation of the executive director of Soluções Usiminas, Ascanio Merrighi; the CEO of Samba Tech, Gustavo Caetano and the CMO (Director of Marketing) of JetE-commerce, Gustavo ChapChap.
About Usiminas Solutions
Soluções Usiminas is one of the five companies of the Usiminas company. SU has production units in four states of the country: Minas Gerais, São Paulo, Rio Grande do Sul and Pernambuco, totaling eight industrial plants with nationwide service.